In my lifetime, I have been lucky enough to visit some incredible cities in the world, maybe not as many as I would like, but definitely some that have made lasting impressions in my mind. I thought New York was unreal… I feel like London is the most amazing, exciting place… but none have ever made me feel the way Paris did… I feel that I was born with Paris in my bones.
Someone once told me that you either get Paris or you don't and I got it… completely and absolutely, with every fibre of my being.
I had visited Paris once before on a trip with Louis Vuitton and although I had an incredible experience, I didn't get to see the city in its entirety, so when my boyfriend booked the trip for Valentines, I was blown away. Filled with an excitement like never before, I packed my bags and prepared myself to experience life… life like I had never imagined.
We stayed at the Hotel Pullman Eiffel Tower, which, from the website, I gathered was absolutely beautiful but it was only when I arrived that the full extent of its beauty was revealed. We had a balcony which was within touching distance of the Eiffel Tower and a favourite spot of mine at various times throughout the day, particularly in the dark of night when the light show glistened in the moonlight. The perfect place to reflect and soak in the atmosphere of the Parisian beauty.
For my first day exploring Paris and climbing the Eiffel Tower in the bitter cold, I chose to wear my beige coat from Zara a Burberry scarf and a trilby hat which I picked up in Peacocks for just £8.
Backpacks were my saviour throughout the trip, allowing me to carry all my trinkets on the many miles that we trekked every day and not notice the weight. I chose my black and gold Moschino one for this particular day and black boots that I purchased in Office which were the perfect blend of comfort and chic.
Have any of you been to Paris? If so, did you fall in love with it just like I did?
Don't forget to watch my little video diary at the bottom of the post to catch up on some of the fun that I had exploring the city streets… and remember…
"Paris is always a good idea…" Audrey Hepburn
Avec Amour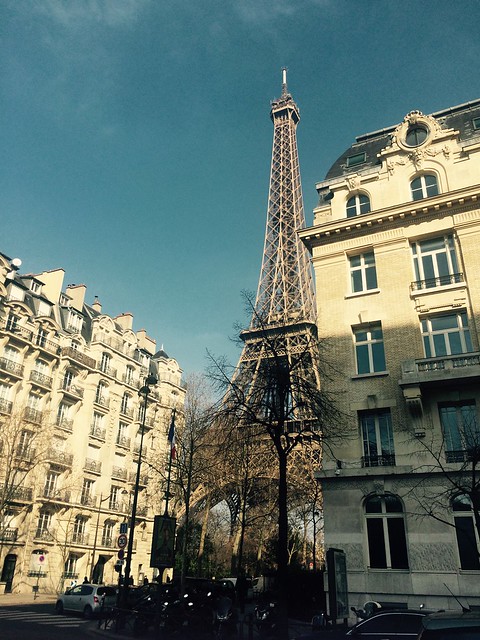 ★ TRILBY HAT FROM PEACOCKS
★
★ MOSCHINO RUCKSACK AND CUFF BRACELET
★